Situation Analysis
The protracted conflict in Somalia, coupled with the de facto control of certain areas by Al-Shabaab (AS), and entrenched gender-based inequality, have heightened the risk of sexual violence facing women and girls, and severely limited reporting. In 2019, sexual violence continued to be employed by AS as a strategy of social control in the communities under their influence. Women and girls were systematically abducted and forced to marry combatants as a reward for fighters and an incentive for new recruits. This practice permitted recruits to enhance their social status by marrying women from more prominent clans. Many women and girls who managed to escape were subjected to threats and, in some cases, sexual exploitation in refugee and displacement settings. In 2019, the United Nations Assistance Mission in Somalia (UNSOM) verified cases of conflict-related sexual violence (CRSV) perpetrated against 220 girls and 19 women.
List of Projects
Building capacity for response to sexual violence in the criminal justice system in Somaliland
Project Summary
This project piloted a global tool Strengthening the Medico-Legal Response to Sexual Violence in Conflict, which had previously been developed with UN Action funding, to enhance access to justice for survivors of sexual violence in Somaliland. This project contributed to knowledge-building by bolstering technical skills among key actors in the criminal justice chain on how to collect and treat medico-legal evidence to facilitate legal redress for sexual violence survivors, and how to coordinate between actors in the criminal justice chain to ensure the correct handling and treatment of medico-legal evidence. Achievements included a successful sexual and gender-based violence (SGBV) situation assessment within Somaliland that informed the development of a training curriculum on medico-legal examination. Furthermore, based on the global toolkit, a Sexual Assault Protocol with the Ministry of Justice was finalised, translated into the Somali language and distributed to stakeholders for use within their regions as a reference tool in responding to SGBV cases. 
Implementing agencies
UNODC, WHO
Project duration
7 June 2016 to 31 May 2017
Leveraging the strength of women in Somalia to mitigate CRSV and prevent violent extremism
Project Summary
This project provides direct support to survivors of CRSV systematically committed by AS as a tactic of war. Specifically, it supports women formerly associated with AS and the communities they return to, to reduce their vulnerabilities and improve their overall human security, using human-centric and prevention-oriented approaches. The project provides strengthened Mental Health & Psychosocial Support (MHPSS) services and socio-economic reintegration support to 100 women formerly associated with AS, including survivors of CRSV; and builds local and national capacities to respond to the complex and sensitive needs of women formerly associated with AS and increase leadership among women from communities affected by AS to mitigate the risks of violent extremism and CRSV.  
Implementing agencies
IOM, UNSOM
Project duration
1 April 2020 to 31 March 2021
Documents
For more information on this project, please go to CRSV_UNA002
Joint Communiqué/Framework of Cooperation
Joint Communiqué of the Federal Republic of Somalia and the United Nations on addressing Conflict Related Sexual Violence, signed in May 2013 (https://tinyurl.com/y3h93ex2)  
Activities from WPAs and UNCT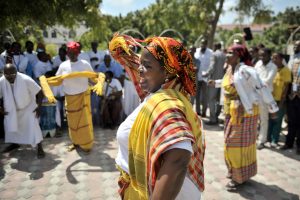 This United Nations Day also marks the beginning of our efforts to commemorate the seventy-fifth anniversary of the United Nations. We are aiming to make the most of this milestone by launching the biggest-ever global conversation on the role of international.
More information